FTW ASSISTANT INSTRUCTORS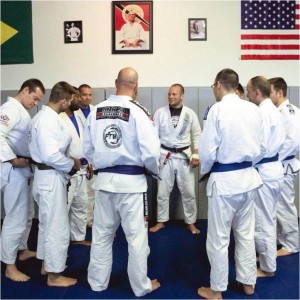 FTW HEAD JUDO and WRESTLING Instructor
MATT MESCAN
2nd degree judo BLACK BELT.
FIGHT TO WIN BROWN BELT under Royce Gracie.
FTW INSTRUCTORS
NICK SPIRITO
FIGHT TO WIN BROWN BELT
LEE HARRISON
FIGHT TO WIN BROWN BELT
DOUG TYSON
FIGHT TO WIN BROWN BELT
JOHN ELLISON
BJJ BROWN BELT under Steve Hall
Trained for several years in Florida with Steve Hall before asking him to move to NC to start and run the FTW Team.
2005 NAGA US Nationals Gold Medalist
2005 Pan-Am's Bronze Medalist
2004 Central FL Open Division Champion
2003 World Gracie Jiu-Jitsu (Arnold Classic) Champion
2003 Dale Earnhardt, Jr. Grappling Classic Champion
2002 World Gracie Jiu-Jitsu (Arnold Classic) Champion
MARK KERKOFF
FIGHT TO WIN PURPLE BELT
FTW Head Instructor of BJJ, INC. Denver, NC Academy
JON PLYLER
FIGHT TO WIN BLACK BELT under Steve Hall/Royce Gracie.
I Jon Plyler began his martial arts training at the age of 12. After 15 years of training & teaching traditional martial arts, he began to get involved in grappling and ground fighting. Mr. Plyler began to cross train in no-gi submission wrestling in 2000 and formally began training Brazilian Jiu-jitsu in 2004 under Professor Paulo "Mushu" Elsimaani. Later in his career Jon began training with Alliance Jiu-jitsu of Charlotte under Professor Luis "Sucuri" Togno. November 2005, he received his blue belt from Romero "Jacare" Cavalcanti (founder of Alliance Jiu-Jitsu). In June 2008, Jon received his purple belt and in August 2010 was awarded his brown belt under Luis Togno. After Prof. Togno tragically passed away in February of 2010, Mr. Plyler continued his training under Prof. Steve Hall. Mr. Plyler is a certified referee for US Grappling and NAGA (North American Grappling Association) & regularly travels throughout the country refereeing & competing in sport jiu-jitsu tournaments. Mr. Plyler is a full time sworn law enforcement officer and law enforcement trainer. He is certified by the NC Justice Academy as a specialized defensive tactics and ground defense instructor, and has taught defensive tactics and ground defense courses for law enforcement agencies throughout the region. Jon received the Black Belt from Master Royce Gracie in Miami December of 2013. In December of 2018 he was awarded the rank of 1st Degree Black Belt.
FTW Kid's Jiu Jitsu Coaches
DAN BAILYS
Fight To Win Brown Belt
LANCE PASSERELLI
Fight To Win Purple Belt
JAMIE GRIGGS
Fight To Win Purple Belt
BILL AKINS
Fight To Win Purple Belt
SAVANNAH BOURGEOIS
Fight To Win Blue Belt